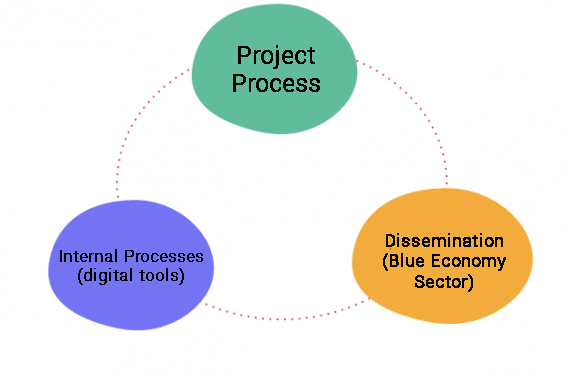 Our vision is to connect businesses operating in the wider area with research institutions, leveraging research and technological development outcomes for the production and dissemination of knowledge and innovation in the economy of Piraeus.
The project is part of the broader Blue Economy strategy of the Municipality of Piraeus, where a comprehensive plan is being developed:
To improve the attractiveness and competitiveness of Piraeus.
To highlight the competitive advantages of existing businesses.
To identify new business opportunities.
To create new and innovative businesses.
The wide dissemination of research results related to the Blue Economy sector.
The transfer of knowledge generated primarily at the national level and secondarily at the international level.
The strengthening of the integration of innovation generated from research activities into the productive function and performance of the Piraeus region, with a focus on the Blue Economy sector of the Piraeus Chamber of Small and Medium-Sized Industries, serving the vision of the strategy of the Piraeus Maritime-Industrial Cluster, for the benefit of the local economy and society.
The support of the development and adoption of a culture of innovation and social and economic responsiveness by the research workforce of Greek Higher Education Institutions and research organizations in the Attica region.
The support for the development of collaborations between productive and research entities and the achievement of a multiplier effect.
The strengthening of research, innovation, and technological development and the demonstration of these advancements to existing businesses.
The strengthening of mechanisms to support, organize, promote, and utilize research and innovative results.
The transfer of research knowledge for the production of new or improved products/services in the Blue Economy sector.